Thursdays of race weeks means F1 Race previews, with all the info you need to be up-to-date before lights out. Plus, some predictions and spots where you can potentially make some money on race weekend.
Final Thoughts on Saudi GP Madness
Well, Jeddah happened. I haven't been watching Formula One for too long, but that was the craziest race I've ever seen. Just off the top of my head I can think of at least five incidents in the race alone, just between Verstappen, Hamilton and the FIA, that were abnormal:
1) Lap 10 – Schumacher crashes, causing a yellow flag, which is changed to a red flag after 4 laps, allowing teams that didn't previously pit a free tyre change when the race is stopped, allowing Verstappen to remain in 1st place
2) On the restart Verstappen brakes super late into turn 1 and runs wide to overtake Ocon and Hamilton. Before a ruling is made, Leclerc runs into the back of Perez and the race was stopped again. We then hear a strange negotiation between the FIA, Red Bull, and Mercedes over what position their main drivers will start in on the restart due to Verstappen's "illegal" overtake. It's decided after a humorous back-and-forth that the order will be Ocon, Hamilton, Verstappen
3) Lap 37 – After an incredible start to the next race restart, Verstappen led for quite a while before Hamilton began to catch up, frequent yellow flags stopping any real moves from being made. Hamilton finally caught on Lap 37 and looked as though he had taken 1st before Verstappen once again broke late into turn 1, running wide and nearly taking out Hamilton on the track rejoin. This was once again deemed illegal and Verstappen was told to give the place back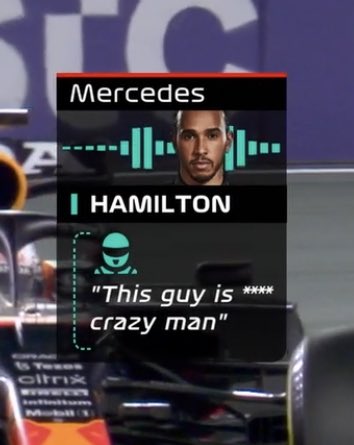 4) This is when things got really crazy. Red Bull relayed the message to Verstappen to give the place back "strategically," leading Max to slow down abruptly in the middle of the track just before the DRS zone. The FIA hadn't told Mercedes about the move until after Red Bull and therefore Hamilton hadn't received the message that Verstappen was letting him through. This led to Hamilton crashing into the back of Verstappen. This will be debated for years. Hamilton claims that Verstappen "brake checked him" while Verstappen claims he was just doing what he was told and tried letting him by. By some miracle, both cars remained intact and they continued to race
5) After several confusing laps, the FIA once again tells Verstappen he has to give the place back to Hamilton. Once again Verstappen lets him through right before the DRS zone, allowing himself to easily retake Hamilton nearly immediately. This led to a 5-second penalty for Verstappen (which was changed to a 10-second penalty post-race) and with his medium tyres fading, he would be passed by Hamilton on Lap 43 of 50 and Lewis would go on to win the race, Verstappen finishing in 2nd.
Things didn't stop with the chequered flag though; both teams and drivers making their thoughts clear after the race. First it was Verstappen giving his thoughts on his race radio after crossing the finish line and again on Twitter:
He then walked off the podium without so much as a look to Hamilton or Bottas:
Hamilton then criticized Max while sitting right beside him in the post-presser (Answer starts around 5:45 of video):
In the days following, Christian Horner has been quite vocal about his thoughts (shocker):
"I think we feel hard done by with the five-second penalty and then the incident where Lewis has driven up the back of Max," Horner said.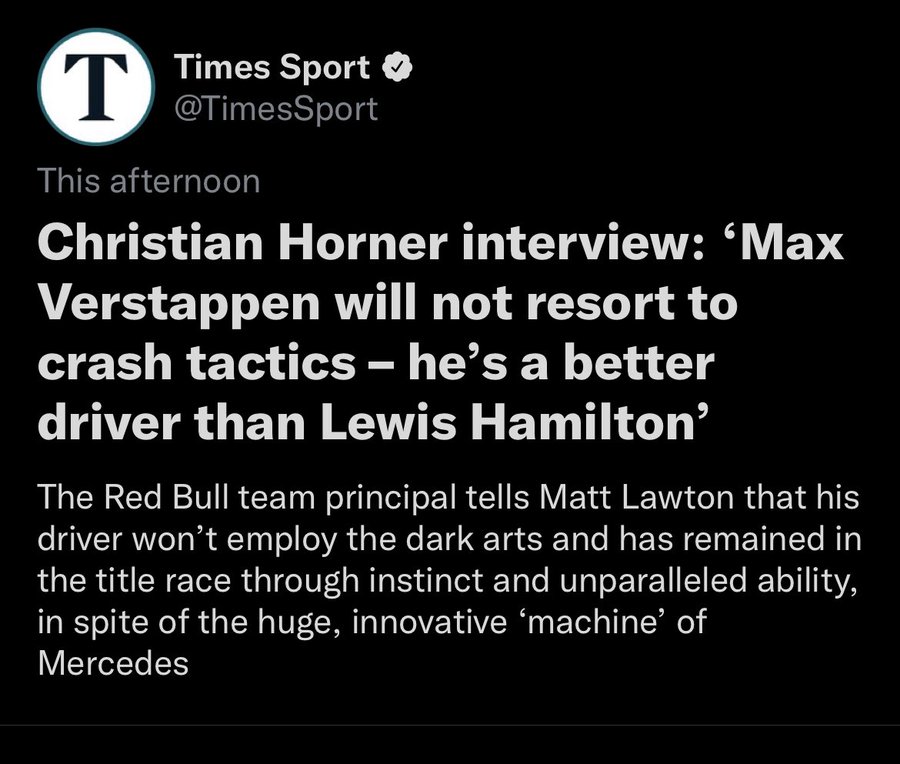 The FIA have also chimed in on possible point deductions in the season finale this weekend if there is any funny business:
"For all the FIA Championships, cups, challenges, trophies or series, the stewards may also decide to impose the following penalties: Suspension for one or more Competitions, withdrawal of points for the championship, cup, challenge, trophy, series…. Points should not be deducted separately from Drivers and Competitors, save in exceptional circumstances."
ABU DHABI GRAND PRIX
Okay, on to Abu Dhabi.
After 21 races, it's all come down to just one. With this the final race of the season and the Drivers Championship being tied, we are in for an absolute treat this weekend. Not since 1974 have two drivers gone into the final race tied on points, and if the way this season has gone is any indication, we're in for some fireworks on Sunday morning. Here's everything you need to know before the cars take the track for Qualifying on Saturday and a World Champion is crowned on Sunday: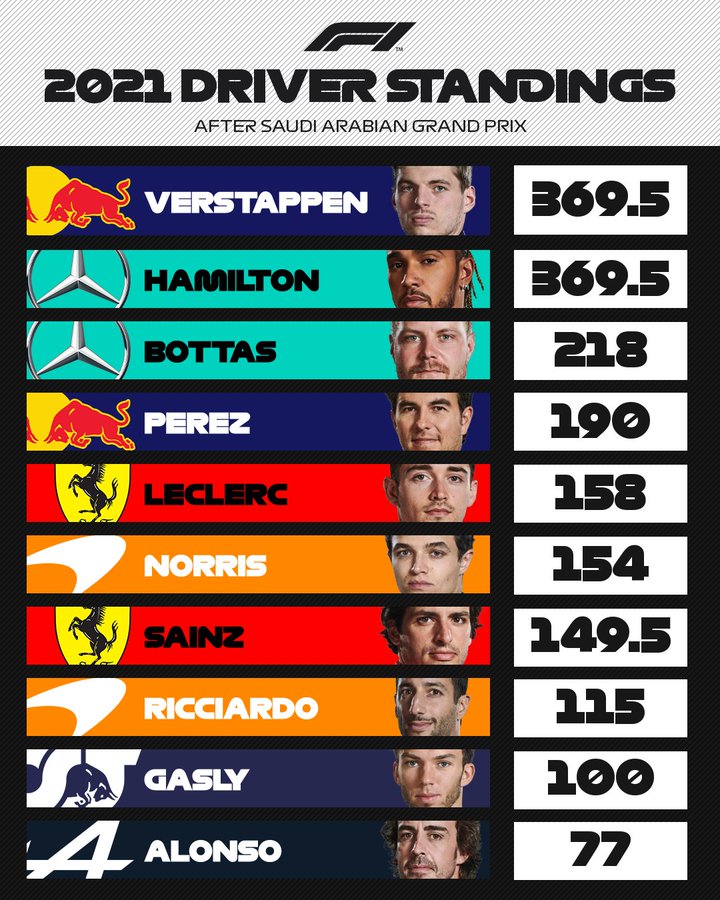 WEEKEND SCHEDULE
TRACK LAYOUT & CHANGES
Circuit designer Jarno Zaffelli, in an attempt to increase speed and the excitement of the race, made three main changes to Yas Marina this year: a revised hairpin, a new banked turn 9, and changes to the hotel complex.
HAIRPIN
The hairpin turn leading into the final corner has been brought forward and replaced the previous chicane
NEW BANKED CORNER AT TURN 9
Removed chicanes, created challenging high-speed corner
HOTEL SECTION
To improve overtaking and flow, The radius of the double-left under the hotel through turns 13-15 have been opened up, while turns 17-19 have been opened on the inside, widening the track.
This on-board video from the F1 video game describes the track and changes nicely:
BETTING THE ABU DHABI GP
TO TAKE POLE
TO WIN
TO MAKE THE PODIUM
Reminder: Check back in on Friday & Saturday for my updated lines and bets. Everything can (and usually does) change in terms of odds after practice sessions and again after qualifying, so come back then before placing your final race bets.